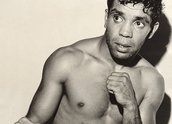 Lionel Rose Wins the World Title (1968)
Synopsis
This is the radio call made over the telephone from Tokyo by Ron Casey describing Lionel Rose winning the world bantamweight boxing title from Japanese fighter Harada in 1968.
Curator's notes
On 26 February 1968 Lionel Rose won the world bantamweight boxing title from Japanese fighter Masahiko 'Fighting' Harada in Tokyo. He became only the second Australian to claim a world championship belt (after Jimmy Carruthers in 1952) and the first Indigenous Australian to do so.
The fight was heard live in Australia described by Ron Casey, sports broadcaster for Melbourne radio station 3DB. Casey was broadcasting from ringside in Tokyo, connected by a broadcast 'tie line' to Melbourne. His call of the last round and the judges' decision is one of the preserved gems of Australian radio sports broadcasting. The tie line used a telephone line for the connection back to Melbourne, so the quality was much the same as a telephone call, but it conveys the excitement in the stadium at the fight's climax.
Online sports discussion site The Roar asked readers in 2008 to write about their favourite sporting moments and the following is an edited account of the call of the fight from 'onside':

My favourite moment in sport came in 1968 when Lionel Rose, aged 20, defeated Masahiko 'Fighting' Harada for the World Bantamweight Championship. ... Right up to the moment Rose stepped into the ring, nobody gave him any real chance of winning and he was a long outsider with the bookmakers. I listened to Ron Casey call the fight on an old Bakelite radio at Lindrum's Billiard and Snooker Hall in Flinders Lane Melbourne. There's something about radio that engages the mind and amplifies the imagination that television can never do. ... As the decision was announced Lindrum's was deathly quiet. It was a unanimous points decision: 72/71, 72/70, 72/69. Ron Casey in the dressing rooms after the fight said Lionel Rose was relatively unmarked and couldn't stop grinning when surrounded by a clutch of sports journalists trying to interview an emerging hero.
Rose grew up near Warrugul to the east of Melbourne, and was fighting professionally by age 16. By the time he was 18 he had won the Australian bantamweight title. He was named Australian of the Year in 1968 and appointed a Member of the British Empire the same year. He successfully defended his world title in 1969 against Alan Rudkin, but lost it a few months later to Rubén Olivares.
Rose retired in 1971 (with a brief comeback in 1975) and embarked on a singing career with a couple of modest hits, including 'I Thank You' and 'Please Remember Me'. 'I Thank You' was used by Triple J sports broadcasters Roy and HG for several years as a replacement for the national anthem during their calls of the AFL and Rugby League Grand Finals.