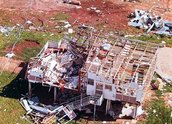 Cyclone Tracy (1974)
Synopsis
This is an excerpt from an ABC radio broadcast featuring Mike Hayes (1944–2003), a senior journalist with the ABC in Darwin. He gives a first-hand account of the aftermath of Cyclone Tracy, down a poor-quality telephone line, to Melbourne radio journalist Bruce Grundy. Hayes describes the immediate effects of the cyclone on the 40,000 people of Darwin – people left in shock and homeless, having lost everything and gone without food for days. He speaks of the relief they feel knowing that many women and children have been evacuated and how grateful they all are simply to be alive.
Curator's notes
Even though there have been many tropical cyclones in Australia since Tracy, she stills looms large in our collective psyche. Cyclone Tracy may have brought a city to its knees, but it was unable to break the spirit of its people, as can be heard in this clip.
Tropical Cyclone Tracy made landfall in Darwin in the early hours of Christmas Day, 1974, killing 71 people, 22 of whom were at sea. The cyclone was rated a Category 4 on the Australian Cyclone Intensity Scale, with wind gauges registering gusts of up to 217 kilometres per hour before they were destroyed by its fury. The cyclone caused significant damage to buildings and infrastructure, including power, water, sanitation, transport and communications. Because of this, much of Australia was oblivious to the cyclone until the afternoon of Christmas Day. Bob Hooper, station manager of the OTC Coastal Radio Service and amateur radio enthusiast, was the first to broadcast news to the world that Darwin had been hit, using his own ham radio equipment.
A committee formed in the immediate aftermath of the cyclone, made up of high-level public servants and police, ruled that 'Darwin had, for the time being, ceased to exist as a city'. Being the middle of summer, temperatures were high and disease outbreak was a real threat. For this reason, 30,000 people were evacuated from Darwin in the week after the cyclone, reducing its population to just over 10,000.
This clip is an excerpt from a longer, very unlikely telephone conversation that Melbourne ABC current affairs reporter Bruce Grundy recorded with Darwin journalist Mike Hayes. In his book So You Want to Be a Journalist (2007, Cambridge University Press), Grundy tells the amazing story of how he recorded what is possibly the first, first-hand account of that terrible night in Darwin. He writes:
A reporter sitting in Melbourne, on the other side of the continent, knew there was a story that had to be told, but how do you tell it from Melbourne when all the phones are out? It was crazy, but the reporter picked up the phone and dialled the ABC's Darwin newsroom. Instead of an 'out of order' tone he heard the familiar 'brrrp brrrp' that one hears when the phone at the other end is ringing. He grabbed a tape recorder, plugged it in, and just let it ring. In Darwin, ABC journalist Mike Hayes was surveying the devastation in his newsroom. A phone somewhere in the rubble of the newsroom started ringing. He picked his way through the mess and answered it.
Mike Hayes's conversation with Grundy presents a human side to the statistics, with Hayes alluding to the psychological impact the cyclone has had on the people of Darwin. This interview was recorded on Boxing Day 1974, and broadcast the same day on ABC Radio. The recording was also used around the world in reports about the cyclone.
The enormity of the physical destruction caused by Cyclone Tracy is documented in Bushnell, K: Cyclone Tracy Aftermath (1974) and Cyclone Tracy – Darwin, Christmas 1974 (available in the Film Australia Collection). There was also a 1986 three-part mini-series, Cyclone Tracy, which used real footage of the damage intercut with fictional stories.
It is estimated that 80-90 per cent of housing was destroyed in the wake of the cyclone; it took three years to rebuild the broken city. Even after Darwin's infrastructure had recovered, as many as 60 per cent of its 1974 population never returned, having built lives elsewhere.
Mike Hayes was one of those who were evacuated never to return. Hayes moved to Canberra where he became a much-loved figure on ABC radio, talking about his adventures as a town-to-country hobby farmer at 'Prickle Farm' in Gundaroo. In 1983 he left the ABC to work as a freelance writer and video producer, writing a long-running column in The Sun Herald. He was also heavily involved in the Canberra music scene. Hayes died in 2003 at the age of 58.
Bruce Grundy went on to teach journalism at the University of Queensland.