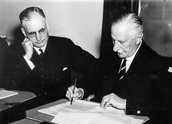 Curtin Speech: Japan Enters Second World War (1941)
The attack on Pearl Harbour was executed and concluded by 5am on the 8th of December 1941, Australian Eastern Standard Time (as daylight saving was not in affect until the next month ). So the Prime Minister could not have recevied word of the attack anytime before the above time and date in Melbourne!

#1 from smokincrater – 8 years, 6 months ago.

Thanks smokincrater for correcting the date. Maryanne Doyle has amended the first paragraph of her Curator's notes accordingly, also adding some new information about ABC reporter Ian Hamilton's claim to have first broken the news that Australia was at war with Japan.


#2 from Editor – 8 years, 6 months ago.
To comment on this title, you need to be
logged in
.

RSS – Subscribe to an RSS feed of comments on this title. (learn about RSS)