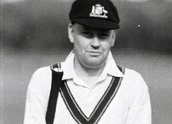 Welcome to the English Cricket Team (1932)
Synopsis
Captain of the Australian cricket team, Bill Woodfull, welcomes the English cricket team to Australia for the Ashes in 1932.
Curator's notes
Bill Woodfull addresses the camera and his audience directly in his official welcome to the English cricket team. This newsreel was likely filmed in 1932, at the start of the 1932–33 series (the preceding and succeeding Ashes series, in 1930 and 1934 respectively, took place in England). This became known as the 'Bodyline' series, in which the English team employed the aggressive bowling tactic to win the Ashes. There is no hint of hostility as Woodfull refers to England as the 'motherland' and 'home country' and thanks them for their 'strenuous fight' for the Ashes. It was filmed using one camera, outside in natural light and would have been screened at cinemas.
Although there is no information on who produced this film, it was donated to the National Film and Sound Archive by Roy Driver, a cinematographer who worked with the Department of Information during the Second World War, and went on to become a director of films in the 1960s.