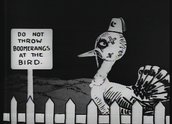 Cartoons of the Moment – The War Zoo (c.1915)
Synopsis
A segment from an animated political series created by cartoonist Harry Julius for wartime editions of the Australasian Gazette newsreel. In this edition, zoo animals are used to depict the major warring countries including: a lion (Britain), an eagle (the United States), a turkey (the Ottoman Empire) and a dachshund (Germany).
Curator's notes
Harry Julius often used animals to represent the various countries involved in the First World War. In The War Zoo, this technique creates easily identifiable character stereotypes that satirise the political predicaments of the key players.
Cartoons of the Moment was probably the first example of locally-produced animated cartoons being screened on a weekly basis to Australian audiences. Julius's distinct style of cut-out animation, and sharp political comment, is a legacy of Australia's long tradition of political cartooning which dates back to the 19th century. The Bulletin magazine published political cartoons as part of its regular features from its first edition in 1880. Julius himself drew for The Bulletin during his career.