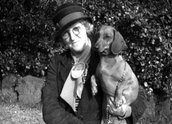 Tatler Social Newsreel: Social Party in South Yarra (c.1934)
Synopsis
This newsreel made by FW Thring's Efftee Film Productions contains three items: a society party held by Mrs Lou Connolly at her home in South Yarra; the first meeting of the Centenary Dog Club at Melbourne Showgrounds; and the activities of Ron Cameron's horseriding school.
Curator's notes
Frank Thring's Tatler Newsreel and Tatler Social Newsreel were made to screen at his Tatler newsreel theatrette in Melbourne in 1934. The Tatler Social Newsreel series was compiled by Peter Newmarch, who worked for the Truth newspaper, and shot by Bert Nicholas. This edition of the newsreel contains voice-over commentary by Peter Newmarch (first item) and Frank Harvey (second and third items).
Only a few Efftee newsreels have survived and this one is a vivid record of Melbourne society at play in the 1930s. The descriptive commentary identifies many of those attending the socialite party (see clip one), the dog show (see clip two) and the horseriding school, and often tells the audience their status and source of wealth. Item 2 at the Centenary Dog Club features a range of proud canine owners and their dogs, many of which have extravagant names like Sir and Lady Ming (chow chows), Charlie Bowden Bridesmaid (a fox terrier) and Zaster Sudbury (a Great Dane).
Frank Thring, through his company Efftee Film Productions, was a prolific producer of sound film at a time when talking pictures were in their infancy. Thring leapt enthusiastically into sound film production in 1931 and, over the next few years, Efftee produced feature films (including Diggers, 1931; His Royal Highness, 1932; and Harmony Row, 1933), short documentaries and travelogues, a series of variety shorts called Efftee Entertainers (repackaged for UK release as Non-stop Varieties) and the Tatler newsreel items.