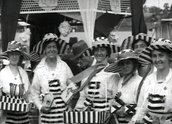 Richmond Carnival in Aid of Blind Soldiers, May 1918 (1918)
Synopsis
This item from a silent newsreel features scenes from a Melbourne carnival held in aid of blind returned soldiers in May 1918. It includes footage of crowds and recreational activities as well as a street parade.
Curator's notes
Newsreels, like today's television news programs, often contained a mixture of national and international news events as well as local interest stories and novelty items. Parades, carnivals and marches were commonly covered during the war years, as seen in clip one. They were often held to raise money and increase support for Australian troops and their families.
There is no segment title included on this news item. However, a scrap of paper found inside the film can, presumably left by the person who deposited the footage with the National Film and Sound Archive, gives the description of the Richmond Carnival. The note would have been invaluable to archivists and historians, allowing them to identify details about the footage such as the people who appear in it and when it was made.