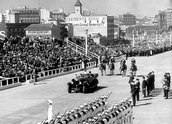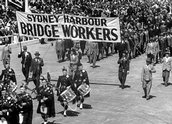 The Opening of the Sydney Harbour Bridge (1932)
Synopsis
On Saturday 19 March 1932, a large crowd gathered around Sydney's Harbour Bridge for the official opening ceremony. This newsreel footage with on-the-spot commentary contains unique coverage of the historical event.
Curator's notes
This remarkable newsreel special, shot for Paramount Pictures, contains scenes from the official opening ceremony and parade, with commentary by John Harper from Paramount Sound News. The construction and opening of the Sydney Harbour Bridge symbolised progress and hope, and was a great technological and engineering feat. This newsreel focuses especially on the hope and pride that the Bridge embodied for people at a time of economic depression.
Filmed from a slightly elevated level, the footage captures the crowds surrounding the approach to the Sydney Harbour Bridge and beautifully conveys the sense of excitement and spectacle of the official opening. The film contains the opening ceremony and speech; the unveiling of the plaque; the cutting of the ribbon by Premier Jack Lang; close-up coverage of the parade moving on to the southern end of the Bridge; shots of Charles Kingsford Smith flying over the harbour; and detailed shots of the city backdrop and harbour filled with dozens of ships.
Commentator John Harper provides on-the-spot commentary absent from all other known footage of the Bridge opening. Harper offers objective descriptive commentary, identifying parts of the ceremony and naming the dignitaries in attendance, but also gets caught up in the excitement and atmosphere of the 'glorious' day, and speaks directly to the audience at times – 'can you hear those cheers?', 'we should be very proud' and 'you just don't know what you're missing'. This serves to really pull the viewing audience into the action on screen and create a sense of almost being there. It is Harper's commentary and the uncontained pride and excitement in his voice that brings this newsreel to life and it retains its power seventy-five years on. One can only imagine how exciting this event must have been at the time for the people of Australia generally and New South Wales in particular. Seventy-five years on, the Bridge retains a special place in our nation's heritage.
Home movie recordings of this event provide an alternative experience and perspective. See for example Farey: Opening of Sydney Harbour Bridge: Home Movie in which a family document their trip from Melbourne to witness the opening of the Bridge in Sydney.
The Opening of the Sydney Harbour Bridge was restored by the National Film and Sound Archive in 2007. Until its restoration, it 'had probably not been seen by the Australian public since its commercial distribution over 70 years ago' (AFC media release, 15 March 2007).