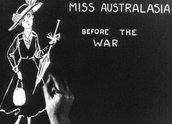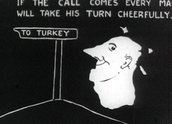 Cartoons of the Moment – Miss Australasia (c.1915)
Synopsis
Cartoons of the Moment was an animated segment by Harry Julius that appeared in wartime editions of the Australasian Gazette newsreel. This edition comments on First World War-related events in Australia and Europe. In the first of three sketches, women are urged to stop buying German and Austrian-made apparel in favour of Australian and Allied-made clothing. The second sketch shows the Crown Prince of Germany congratulating a bruised and battered Turkish serviceman for fighting on the front-line. The final sketch comments on Colonel Cameron's proposal that Australia should lead the Empire in adopting compulsory national service.
Curator's notes
Australian cartoonist Harry Julius was employed by the Australasian Gazette in approximately 1914 to produce the political satire sketch Cartoons of the Moment. His cartoons appeared weekly and screened to cinema audiences in Australia and New Zealand. His satirical cartoons used caricature and often featured animals to represent the countries involved in the war. His captions included the use of puns as a starting point for a sketch, or took their inspiration from news cables.
Cartoons of the Moment employs paper cut-outs – white figures on a dark background. Cut-out animation uses two-dimensional character shapes, photographed with a stop-motion technique. Stop-motion, or frame-by-frame photography, involves photographing the action one frame at a time to create the effect of movement. Today, animation is more often achieved using computer technology.