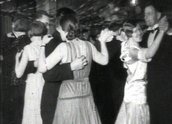 Efftee Film Productions Congratulates Miss Dorothy Fricke (1931)
Synopsis
This silent newsreel item from Efftee Film Productions shows the debutante celebration of Miss Dorothy Fricke, held at Chelsea Memorial Hall in Melbourne on 24 August 1931. It features men and women waltzing around a decorated hall.
Curator's notes
A lot of what is known about this historical footage comes from the title card at the beginning, 'Efftee Film Productions have Pleasure in Extending to Miss Dorothy Fricke their Congratulations on having Attained her Majority, Celebrated at Chelsea Memorial Hall on Monday 24th August 1931'. It is possible that Fricke was from a well-known family in the Melbourne area, as Thring did produce newsreel items that documented the lives of Melbourne society (see Tatler Social Newsreel: Social Party in South Yarra, c1934). Dorothy Fricke is visible dancing with her future husband on the right in the still above.
Frank Thring was a film entrepreneur and proud supporter of Australian cinema production in the 1930s, and a champion of the potential of talking pictures in particular. While this item is silent, it would have screened to cinema audiences in Melbourne as part of an Efftee film program.