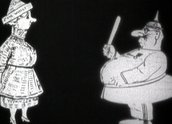 Cartoons of the Moment – The Economy in Germany (c.1915)
Synopsis
Cartoons of the Moment is an animated satirical segment created by Australian cartoonist Harry Julius during the First World War for the Australasian Gazette newsreel. In this edition from approximately 1914, Julius comments on the economic decline in Germany and the likely prospect of that country's defeat.
Curator's notes
Harry Julius's sketches for the wartime editions of the Australasian Gazette frequently use caricature and satire to comment on the social, political and economic impact of the First World War – from the Allies point of view. Julius was employed by the newsreel specifically for Cartoons of the Moment and his cartoons supported the Gazette's position on the war and, later, its pro-conscription stance. The sketches were probably the first locally-produced cartoons to be seen by Australian audiences in cinemas and were screened on a weekly basis from approximately 1914. Julius's drawn animation regularly includes the appearance of animals representing the major war countries including: a battered fez-capped turkey (Turkey); a large aggressive eagle (the United States); and a Union Jack-covered bulldog or lion (the United Kingdom). He also employs caricatures that use a symbol, a particular item of clothing or specific facial features to satirise the qualities of a country or its people.
Cartoons of the Moment employs paper cut-outs – white figures on a dark background. Cut-out animation uses two-dimensional character shapes, photographed with a stop-motion technique. Stop-motion, or frame-by-frame photography, involves photographing the action one frame at a time to create the effect of movement. Today, animation is more often achieved using computer technology.
Harry Julius was employed to produce sketches supporting the conscription drive in Australia for wartime editions of the Australasian Gazette newsreel. Julius drew for Australian newspapers and magazines including The Bulletin. He was the first artist in Australia to animate cartoons for films.