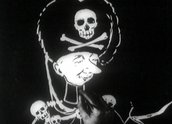 Cartoons of the Moment – Crown Prince of Death (c.1915)
Synopsis
Cartoonist Harry Julius was employed by the Australasian Gazette from approximately 1914 to provide a political cartoon segment – Cartoons of the Moment – as part of its wartime newsreels. This edition includes three sketches that comment on: the German economy, Turkish forces fighting on the front and the Crown Prince of Germany.
Curator's notes
Harry Julius uses many techniques employed by political cartoonists including representing countries as animals (such as a turkey to represent Turkish forces), and the use of word play in titles and accompanying captions (for example, the caption 'worst comes to wurst' accompanies a picture of a German horse made out of German sausages). In clip one, Kaiser Wilhelm II – the Crown Prince of Germany – is caricatured with human skulls adorning his uniform to emphasise the enormous loss of life suffered by German troops. Germany is the target of a large number of Julius's propaganda cartoons. By 1916, his severe portrayal of the German forces was used to persuade Australian men to enlist to fight (see Cartoons of the Moment – Today the German Monster Threatens the World, c1916).
Political cartooning in print media has a long tradition in Australia. The first political cartoon appeared in a Tasmanian newspaper in 1835, and The Bulletin magazine (for which Julius also drew) used political cartoons from its first edition in 1880. Animated political cartoons such as Cartoons of the Moment were not as common. Julius's series was the first locally-produced animations that Australian audiences saw.