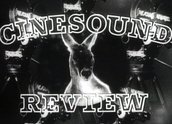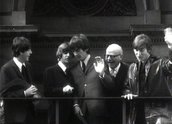 Cinesound Review: That Mersey Sound: Beatles at the Stadium (1964)
Synopsis
This is a Cinesound Review newsreel special on the Beatles' tour to Australia and New Zealand in 1964. The first part of the newsreel shows the Beatles visiting Melbourne and Sydney and footage of thousands of screaming fans in both cities. It closes with highlights from one of their live performances inside Sydney Stadium, including excerpts from their songs.
Curator's notes
The Beatles' first and only tour to Australia in 1964 generated a massive amount of interest across the nation. Cinesound Review was one of two main companies producing weekly cinema newsreels for a national audience, the other being Fox Movietone News. Both newsreels started in the early 1930s and maintained intense rivalry over their years of production (a rivalry fictionalised in the film Newsfront, 1978). Like the newsmakers of today, the producers of both Cinesound and Movietone newsreels spent a lot of time trying to 'scoop' an exclusive story.
Cinesound Review made a number of 'newsreel specials' – with the focus on just one story, instead of the usual three or four – such as this Beatles edition that runs for almost seven minutes. A cinema newsreel generally ran for around 10 minutes and consisted of a couple of newsworthy items, a novelty item and a sporting item. Cinesound secured exclusive access to the Beatles performances inside Sydney Stadium at Rushcutters Bay, and excerpts from the concert are shown in the last few minutes of the newsreel. The first half of the special (clip two) shows footage of the Beatles on the streets of Sydney, Melbourne and New Zealand and features a commentary by Ken Sparkes describing the 'Beatlemania' of the 1964 tour.
The Cinesound Review issued its first newsreel edition in November 1931 and its last in October 1970, before it merged with former rival Fox Movietone News to produce the Australian Movie Magazine newsreel.
This newsreel was first screened on 24 June 1964. By the 1960s, to compete with television, newsreel lengths shortened from the standard 10 or 11 minutes down to 6 or 7. The Beatles' public appearances in Australia were covered live by television and radio, but the performance footage recorded inside the Sydney stadium was what gave Cinesound the scoop on the television crews.