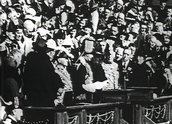 Centenary Celebrations of Melbourne, Victoria (1934)
Synopsis
This unedited newsreel footage contains a speech given by the Duke of Gloucester opening Melbourne's centenary celebrations.
Curator's notes
Made by Herschells Films, probably to be packaged into a newsreel item, this footage provides an important audiovisual record of Victoria's settlement history. While faces of people in the crowd are difficult to make out and the quality of the image is poor, the Duke's speech itself can be clearly heard.
This material came into the collection from cinematographer Roy Driver who was the managing director of Herschells films, a production company which had been in short documentary production since 1912. Herschells also produced the short-lived Melbourne based Herald Newsreel before it was taken over by Cinesound in 1932. During the Second World War, Driver became a war correspondent with the Department of Information's Cinema and Photographic Branch.