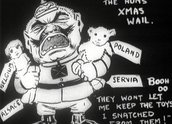 Cartoons of the Moment – The Berlin Lokal Anzeiger (1915)
Synopsis
This edition of Cartoons of the Moment by cartoonist Harry Julius appeared in the Australasian Gazette, providing satirical comment on events in Australia and Europe during the First World War.
Curator's notes
Australian cartoonist Harry Julius's sketches use caricature and satire to comment on the social, political and economic impact of the First World War. Like many political cartoonists, Julius drew his inspiration from newspaper reports and then distilled the information into short, sharp animated cartoons. He is often shown reading a newspaper at the beginning of Cartoons of the Moment, before embarking on a sketch at his desk.
Julius drew for Australian newspapers and magazines including The Bulletin. He was the first artist in Australia to animate cartoons for films. This wartime series was probably the first example of locally-produced animated cartoons being screened on a weekly basis to Australian audiences.