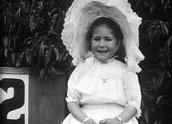 Ballarat Beauty Competition (1911)
Synopsis
This silent newsreel shows the first 15 contestants in a local children's beauty competition held in the Victorian town of Ballarat in 1911.
Curator's notes
This Pathé newsreel (indicated by the title card at the opening of this footage) captures the 36 entrants in a local beauty competition held in the Ballarat Botanical Gardens on 9 June 1911. According to film historian Chris Long, the entrants were aged less than 12 years of age and the winner was voted on by patrons attending the local theatre screening of the film. The voted winner was contestant number nine, Elsie Talmadge.
Pathé Freres was a film production company founded by Frenchman, Charles Pathé. In 1909 Pathé Freres established a distribution agency in Melbourne under the management of Stanley Crick, and employed Australian cameramen to shoot items for the Australian editions of the Pathé Animated Gazette.