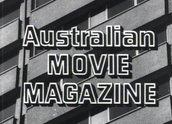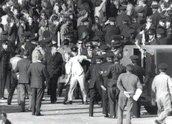 Australian Movie Magazine No 7201 (1971)
Synopsis
This cinema newsreel features news highlights from 1971 including anti-apartheid demonstrations against South African sporting teams; John Gorton's tour of Vietnam; William McMahon becoming Prime Minister; a wool fashion parade staged in the New Guinea Highlands; an underwater wedding at Sydney's Marineland; sportswomen Heather Mackay, Evonne Cawley (then Goolagong) and Shane Gould; the 50th anniversary of the Royal Australian Air Force; the introduction of the Qantas 747; and the death of Chips Rafferty.
Curator's notes
This Australian Movie Magazine is a 'year in review' edition and not a typical example of the newsreel's format. It does, however, present some of the significant events of 1971 and includes a range of story types: standard news, novelty, sports, obituaries, and stories of cultural significance or technological development. The news reports in this reel all have a political dimension – the anti-apartheid protests, Gorton's visit to Vietnam and McMahon becoming Prime Minister. Sport features heavily too and remains a significant part of the news format in television news today.
Australia was one of the last countries in the world to screen cinema newsreels. The introduction of television to Australia in the mid-1950s brought competition for them. The sensational opening sequence (see clip 1) reflects the magazine format of Australian Movie Magazine and the final development in newsreel production in Australia. The two major producers of newsreels from the 1930s up until 1970 were Cinesound and Movietone Productions. In 1970 the companies merged and issued a single newsreel, the Australian Movie Magazine, which ceased in 1975.
This newsreel was first screened on 30 December 1971.