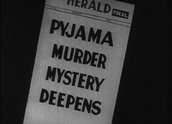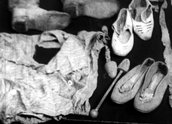 Australia Today – The 'Pyjama Girl' Murder Case (1939)
Synopsis
This Australia Today newsreel, produced in the 1930s by Rupert Kathner, investigates the famous 'Pyjama Girl' murder case, which remained unsolved in Australia for over ten years.
On 1 September 1934, the body of an unidentified woman was found on the side of a road outside of Albury, NSW, dressed only in silk pyjamas. Because of the brutality of the crime, the young age of the victim, and the unusual clothing she was wearing when found, her case captured the imagination of the Australian public.
The newsreel uses reconstruction, re-enactment and voice-over narration to sensationally dramatise the events surrounding the Pyjama Girl's disappearance.
Curator's notes
Between 1934 and 1944, the Pyjama Girl mystery was one of the most baffling unsolved murder cases in Australian criminal history. This Australia Today newsreel special reconstructs the events surrounding the 1938 Coronial Inquest into the Pyjama Girl's murder, and the emergence of fresh evidence found a year later.
The newsreel makes use of re-enactments, reconstruction and voice-over narration and puts it together as a crime thriller. At the time, it was unusual for newsreels to use this format, although reconstructed true crime is now the staple of contemporary television programs like Australia's Most Wanted and most commercial current affairs. The blurring of fact and fiction within the narrative makes it difficult to sort out myth from reality. According to Richard Evans, who wrote a book about the Pyjama Girl mystery in 2004, Kathner's film did much to enshrine the case into urban folklore.
Australia Today was set up in the late 1930s by Kathner as an alternative news source to established newsreels Cinesound and Movietone. In various issues it addressed crime, poverty and contemporary social problems in Depression-era Australia. The Pyjama Girl newsreel originally screened in August 1939 at the Capitol Theatre in Sydney. It was screened again briefly in 1944 at the time of the inquest into the murder of Linda Agostini (finally identified as the Pyjama Girl) until the Coroner ordered it to be pulled (Evans, 2004).
Rupert Kathner made several films for his Australia Today newsreel with his filmmaking partner, Alma Brooks, through their production company Enterprise Film Co, including the feature films Wings of Destiny (1940) and The Glenrowan Affair (1951).