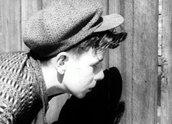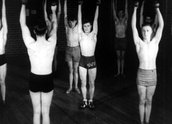 Australia Today – Men of Tomorrow (1939)
Synopsis
Men of Tomorrow looks at the 'city of shadows' – life as it is for young people living in slum conditions in Sydney in the late 1930s. It contrasts the despair and poor social conditions of those living in densely populated inner-city slum areas, with the hope that can be gained if young people are shown the path to 'good citizenship' with guidance from the Police Boys Club.
Curator's notes
This documentary-style newsreel opens with a poem which says that young males – the 'men who come tomorrow' – are left to straighten out the twisted world that those before them have created. The voice-over narration begins dramatically by saying that there are two sides to every city – hope and despair.
Depicting the family life of a young boy and his parents living in the poor suburbs of Sydney, the newsreel touches on the responsibility that society has to its youth in offering them better pathways for the future. The cycle of poverty and criminal and antisocial behaviour is illustrated through the father-son relationship depicted in the newsreel. The Police Boys Club – where young people can socialise and learn life skills in a safe environment – is offered as one solution to breaking this cycle and providing hope.
Rupert Kathner's Australia Today newsreels claimed to be a 'digest of current events' and covered social issues including poverty, crime, and other social conditions. A feature of the newsreels was their documentary style and use of re-constructions and re-enactmentments, which allowed an investigation of topics broader than events-driven pieces, and also produced a dramatically engaging product.
This newsreel was made just prior to the Second World War, during which time the housing problem only got worse. The Housing Commission of NSW was not established until 1942, despite a 1936 NSW Housing Slums Investigation Committee drawing attention to the housing situation in inner city Sydney, and the redevelopment of the inner-city suburbs of Sydney did not take place until well into the 1940s.