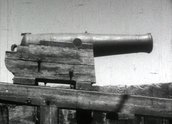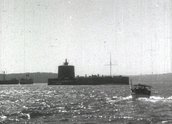 Australia Today – Fort Denison: [Pinchgut]: A Relic of Early Sydney (1939)
Synopsis
Fort Denison is a fortified island in Sydney Harbour built between 1841 and 1857 as a defence against a feared invasion. This newsreel narrates the history of the site over time, and shows the Fort's various characteristics and possible functions.
Curator's notes
Known as Mat-te-wan-ye by the local Indigenous population and later named Rock Island and Pinchgut by white settlers, the small rocky island in the middle of Sydney Harbour became the site of Fort Denison in 1857, and was named after Sir William Denison, then Governor of New South Wales.
This Australia Today Newsreel paints a nostalgic look at the history of the Fort and its place in Sydney's military and cultural heritage. It contains historical footage of the Fort – which was never actually needed to defend Australia's waters – against the backdrop of a modern Sydney Harbour.
Today, Fort Denison is a museum. The Sydney Harbour National Park protects various islands in Sydney harbour including the site of Fort Denison.