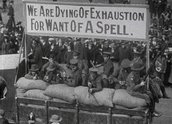 Australasian Gazette – Returned Anzacs (c.1917)
Synopsis
This segment from an Australasian Gazette newsreel shows returned Anzac soldiers marching through Melbourne as part of the First World War 'Fill-the-Gap' recruitment drive.
Curator's notes
Newsreels were an integral part of cinema programming in Australia before the advent of television in 1956. Issued on a weekly basis, the newsreels enabled people to further engage with local and national political stories and events.
Not much has been recorded about the history of Australasian Gazette newsreels but what survives is a wonderful collection of silent newsreels representative of the time.