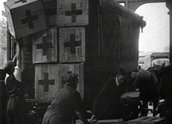 Australasian Gazette – First Shipment of Red Cross Supplies to Egypt (c.1917)
Synopsis
This Australasian Gazette newsreel shows the first shipment of Red Cross supplies leaving Federal Government House, Melbourne for soldiers in Egypt. Men form a chain to transport boxes of supplies down stairs to load onto a vehicle. The horse-drawn vehicles then leave the depot.
Curator's notes
Newsreels were an integral part of cinema programming in Australia before the advent of television in 1956. Issued on a weekly basis, the newsreels enabled people to further engage with local and national political stories and events.
This newsreel captures an important part of the Australian Red Cross's function during the First World War. Red Cross activities expanded dramatically by the Second World War, but even at the time this newsreel was made, crucial supplies shipped overseas for soldiers included care parcels, clothing and medical supplies.