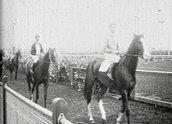 Australasian Gazette – 1924 Melbourne Cup (1924)
Came upon this quite by accident.
Am very grateful for your service as the winning jockey was my grandfather. I can't wait to show the film to my father who was born some 3 weeks after the race!

#1 from CraigBrown – 12 years, 11 months ago.
To comment on this title, you need to be
logged in
.

RSS – Subscribe to an RSS feed of comments on this title. (learn about RSS)