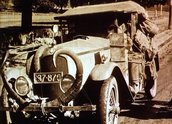 Australasian Gazette – 10,000 Miles around Australia (c.1926)
Synopsis
This Australasian Gazette newsreel from approximately 1926 shows the arrival of Mr and Mrs F Dean in Melbourne after their trip around Australia by touring car. The trip was sponsored by the Shell company who supplied their petrol. Buffalo horns are shown on the front of the car and the officials from the Shell company congratulate the motorists for their successful tour.
Curator's notes
Newsreels were an integral part of cinema programming in Australia before the advent of television in 1956. Issued on a weekly basis, the newsreels enabled people to further engage with local and national political stories and events. This silent black-and-white newsreel uses intertitles to link various segments and to help tell the story of the journey taken by Mr and Mrs F Dean around Australia. It illustrates the fascination Australian's have had with the outback and their will to endure its landscape.
The involvement of the Shell company with the trip around Australia was one of Shell's many such activities. Shell not only sponsored trips such as the one captured in this newsreel, but also sponsored or produced a number of documentary films including The Back of Beyond (1954).