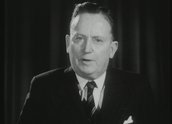 ALP: Frank Forde, Election 1946 (1946)
Synopsis
In an address to the public designed in newsreel format for cinema release, Deputy Prime Minister Frank Forde makes an appeal to his Capricornia electorate for a vote for him and a vote for Chifley, prior to the September 1946 federal election.
Curator's notes
This film is one of a collection of archival campaign films held at the NFSA on behalf of the Australian Labor Party. In the federal election held on 28 September 1946, the incumbent Prime Minister Ben Chifley stood against the Leader of the Opposition and of the newly formed Liberal Party, Robert Menzies.
When John Curtin died in July 1945, after an eight day period of Deputy Prime Minister Frank Forde taking the reins, Chifley was elected leader of the Labor Party and became Prime Minister. A month later, VP(Victory in the Pacific) Day was declared and Chifley, a proponent of strong centralist management of the national economy, led the country into a postwar period of stability and growth. The Labor Party went to the September 1946 election promising more of the same, and were able to achieve a decisive victory. In the House of Representatives, Labor won 43 seats to Menzies' new Liberal Party's 15 and the Country Party's 11. In the Senate, Labor won 16 to the Liberal and Country Party alliance's three.