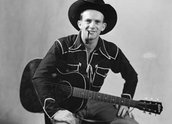 Wrap Me Up With My Stockwhip and Blanket (1936)
Synopsis
Tex Morton, Australia's first country music star, recorded this song in 1936 for Regal Zonophone. Recorded simply with voice and guitar accompaniment, it marks the beginnings of a distinctively Australian country music.
Curator's notes
When Australian performers started to record country music in the early 1930s, they blithely sang about Texas or Montana, often with American accents. Tex Morton's first releases were no different until his fourth recording session in August 1936, when he put down 'Wrap Me Up With My Stockwhip and Blanket', a country and western song with a distinct Australian flavour.
Tex Morton was actually a New Zealander. Born Robert Lane in Nelson in 1916, he arrived in Australia in 1934 to pursue a career as an entertainer and within two years he had a recording contract with Regal Zonophone. Between 1936 and 1943 he recorded 93 songs for that label, many with an Australian feel.
Even though some of these songs involved little more than changing place names and a few expressions to Australianise them, what Tex Morton did was create an awareness that country and western music could be an Australian form as much as it was an American form. Other young country singers and songwriters such as Buddy Williams and Slim Dusty soon followed Morton's lead and a distinct sub-genre of Australian country music – the bush ballad – emerged.
The bush ballad was first developed in the 1880s and '90s as part of an Australian romantic nationalism, its best known practitioners being AB 'Banjo' Paterson and Henry Lawson, who contributed to the weekly newspapers of the day such as The Bulletin. A classic example of a bush ballad is 'The Wild Colonial Boy'. 'Wrap Me Up With My Stockwhip and Blanket' became better known in Australia as 'The Dying Stockman' when Banjo Paterson published it in Old Bush Songs in 1905.
'Wrap Me Up With My Stockwhip and Blanket' is a minimal reworking of a song from this tradition, which Tex Morton made his own and which consequently triggered a whole sub-genre in Australian country and western music.