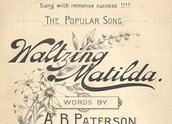 Waltzing Matilda (1926)
Synopsis
This is the first recording ever made of the well-known and much loved popular Australian song.
Curator's notes
'Waltzing Matilda', a poem by Banjo Paterson, was first recorded 30 years after it was written in 1895. The melody of the song is attributed to Christina Macpherson, whose family owned the property Dagworth Station near Winton in Queensland, where Paterson was staying when he composed the poem.
This is its first known recording, performed by the Queensland-born tenor John Collinson in London in 1926 with Russell Callow credited as pianist. Little is known of either of these two musicians, though this may be the John Collinson who was a student at the Royal Academy of Music in London from 1919, and who was awarded the Rutson Memorial Prize that year.
An arrangement of the song by Marie Cowan had been published for 20 years by that time, and was accepted widely as the standard. For this recording they changed the melody on the second and fourth lines of both the verse and chorus. In some ways it is closer to the tune Christina Macpherson wrote down at Dagworth Station in 1895, the basis of the version which circulated in Queensland until the wider publication of Marie Cowan's reworking a decade later.
The inspiration for the lyrics, about a swagman who stole sheep, was caught by troopers, jumps into a billabong and drowns, have been disputed. Written soon after the famous Shearer's Strike of 1894, some critics claim it relates to that dispute between squatters and shearers. Others say the genesis of the words came from events around Dagworth Station.
'Waltzing Matilda' has been passed down over 100 years in many forms and interpretations to become one of Australia's most loved songs, and unofficial national anthem.
The recording was released twice, on different labels and with a different B-side (not unusual in those days). The first release had 'My Old Home Town (Mildura)' on the flip side and the second release, a year later, on Vocalion X10021, instead featured 'The Maori Flute'. Neither release sold well, and it wasn't until Peter Dawson's recording, more than a decade later, that 'Waltzing Matilda' finally became a hit record. Since then the song has been recorded over 600 times in Australia and overseas in just about every possible musical style.