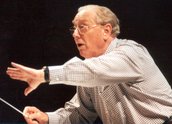 Sydney Opera House Opening Concert (1973)
The concert with Charles Mackerras and Birgit Nilsson took place on 29 September 1973 (not October). It was the SSO's very first official concert in the newly finished Concert Hall and the unusual all-Wagner program was in part because of uncertainty whether the hall would be ready in time – it needed to be a concert that could transfer to the Sydney Town Hall as a gala. The concerts with the Cleveland Orchestra and the Gala Opening concert (Beethoven 9 conducted by Willem van Otterloo) before the Queen all took place in October, after the Wagner concert.

#1 from thomasina – 11 years, 1 month ago.
To comment on this title, you need to be
logged in
.

RSS – Subscribe to an RSS feed of comments on this title. (learn about RSS)