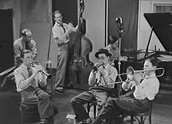 Swanston St Shamble; Two Day Jag (1944)
Synopsis
Graeme Bell and his younger brother Roger have been key players in Australian jazz for over 60 years and these historic recordings are their first commercially released tracks. They were made three years before their pioneering tours to Europe in the late 1940s.
Curator's notes
'Swanston St Shamble' and 'Two Day Jag' are Graeme Bell's Dixieland Band's first published recordings, made in Melbourne in 1944. Written by Bell, the titles refer to traffic conditions and hangovers respectively, while the Dixieland style is inspired by the music that started in New Orleans in the first decades of the twentieth century.
Dubbed the 'father of Australian jazz', Graeme Bell has been a central figure in the Australian jazz scene for over 60 years. From the mid-1930s, various formations of the Bell brothers' bands played both in mainstream dance venues such as the Heidelberg Town Hall, and the Palais Royale at the Exhibition Buildings, as well as performing more groundbreaking jazz in smaller venues in St Kilda and Portsea.
Some of their first, unreleased 78 rpm discs were recorded in 1940 and 1942, as 'Graeme Bell's Jazz Band', with a line-up including Ade Monsborough, Norm Davies, Tom Crowe, Norm Blackmore, Lou Silbereisen, Frank Coughlan, Lin Challen and Charlie Blott. These recordings were followed by a series of sessions from January 1944, cut by William H Miller, a Melbourne lawyer who had started his small Ampersand label the year before.