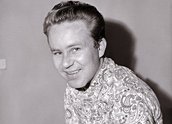 She's My Baby (1959)
Synopsis
Johnny O'Keefe released 'She's My Baby' in 1960. It came after a string of hits that included 'The Wild One' and 'Shout' and helped secure his position as the biggest star in Australia in that period. His whirlwind energy made the crowds go wild at his live shows, while he also managed to hold down TV and radio shows at the same time.
Curator's notes
Johnny O'Keefe's first top 20 hit, 'The Wild One', came in March 1958 and by the time he released 'She's My Baby' in January 1960, he was a star. The song was a number one hit in Australia, he had a popular TV show, Six O'Clock Rock (1959–62), a radio show 'Rockville Junction', and live shows that were famously called 'riots'. He was on top of the world.
Johnny O'Keefe went on tour in the US around this time and to Los Angeles to line up some shows with Elvis Presley, but these fell through at the last moment. He did, however, land a record deal with Liberty Records at a time when it was even difficult to get a deal in Australia, let alone the US. He went into the legendary Gold Star studios in Los Angeles with some of the best session musicians of the day and recorded 'She's My Baby' and four other tracks: 'Own True Self', 'It's Too Late', 'Don't You Know' and 'Come On and Take My Hand.'
The quality of the production was a step up from production in Australia and exactly what the ambitious young O'Keefe was looking for. When he brought the records back, his backing band the Dee Jays had to listen very carefully to what each of the US session musicians was doing in order to replicate the same sound live in Australia. 'She's My Baby' was released in Australia on 7 January 1960 and remained at number one in Australia for two weeks.
Tragedy struck O'Keefe in June of that year when he was involved in a car accident on the mid-north coast of New South Wales. He was seriously injured and had to have plastic surgery to his face. Amazingly, he resumed his TV show just weeks later. It was by no means the end of his career: he went on to have further hits, releasing over 50 singles and 100 albums throughout his career, but those close to him say he never really had the same energy and verve after the accident.
Johnny O'Keefe was born in 1935 in Sydney. He played music at school and at home but it was in the mid fifties, when he first heard American rock'n'roll artists likes Chuck Berry, Bill Haley, Johnny Ray and Elvis Presley, that he turned his head to becoming a rock singer. O'Keefe worked tirelessly as a live performer, developing his skills as a showman, and it was an incident at a concert that inspired him to write 'The Wild One'. O'Keefe's American connection was helped by his association with entrepreneur Lee Gordon, who released 'She's My Baby' on his own label. It went on to sell over 100,000 copies in the US.
His career went into decline with the arrival of bands like the Beatles and the Rolling Stones marking a change in popular taste and style, but there's no dispute that Johnny O'Keefe was a trailblazer in Australian rock'n'roll. His energy, talent, inspiration and drive have made him an icon in the Australian music business.