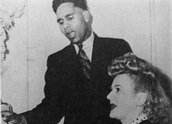 Maranoa Lullaby (1950)
Synopsis
Born in 1924 in Queensland, Harold Blair developed a fine tenor voice singing in the cane-fields and local concerts. 'Maranoa Lullaby' is one of several songs he recorded in 1950, arranged for voices and keyboard by British composer Arthur Loam who had met the owner of the Maranoa Station in Queensland.
Curator's notes
Harold Blair was the first Aboriginal Australian to achieve recognition as a classical singer. This recording is one of two unreleased songs on a lacquer disc donated to the National Film and Sound Archive by his widow Dorothy.
Harold Blair was born in 1924 at Cherbourg Aboriginal Reserve, near Murgon, Queensland. Soon after his birth, he was transferred to the Purga Mission near Ipswich. He sang at local concerts and in the cane-fields where he worked. He later won a place at the Conservatorium of Music in Melbourne, graduating in 1949.
He performed on ABC concert tours around Australia from 1949–51 and appeared in several stage productions. In addition to his achievements as singer and music teacher, he studied in New York for a period, before returning to be with his wife. Some said his voice was never the same after his return, but he continued to sing and perform for the rest of his life.
While in America he was awakened more fully to the plight of his people and made many social contributions that improved conditions for Indigenous people around Australia. In 1964 he ran as a Labor candidate for the seat of Mentone, but lost to the sitting member. In 1967 he taught music for the Victorian Education Department. He died in Melbourne in 1976.