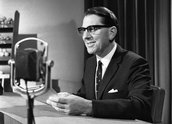 Majestic Fanfare (1943)
Synopsis
The original 1943 recording of the ABC's much loved 'Majestic Fanfare', used in various forms since 1952 to introduce news broadcasts.
Curator's notes
The 'Majestic Fanfare' was not composed specifically for the ABC, nor written by an Australian, nor even played by an Australian orchestra, but for most Australians it is as Australian as a gum tree or the call of a kookaburra. Since 1952, in one form or another, it has been the piece of music that tells us to sit up and listen, the news is on.
It has become synonymous with great events, and has thus acquired authority and gravity – which is why there is an outcry whenever it is changed, re-recorded or dropped as the news theme. The public sense of ownership of this piece of music is strong.
Charles Williams wrote it in 1935, when he was about 43 years old. Born Isaac Cozerbrect in the East End of London in 1893, he was the son of immigrant Polish Jews. His father 'borrowed' the name Charles Williams from a well-known British composer. Isaac in turn became Charles Williams as his musical career developed in the years after the First World War. In the early 1920s he was a freelance violinist in various orchestras, from silent cinema and concert hall, graduating to composition and composing in 1923.
In 1929 he was one of those who collaborated to write the music for the first British sound film, Alfred Hitchcock's Blackmail. He wrote music for more than 100 films over the next 20 years, including Hitchcock's 1937 version of The 39 Steps. In 1942 he took charge of the Queen's Hall Light Orchestra, a recording unit established by Chappell Music publishers to promote their music library. From the late 1930s there were several competing orchestras supplying music for use in films and newsreels.
The QHLO was one of the best of them and that's who we hear in this 1943 recording of the 'Fanfare'. Williams's purpose in writing it eight years earlier is unclear. The title could suggest a royal occasion, perhaps the Silver Jubilee of George V and Queen Mary, celebrated in May 1935. We do not know.