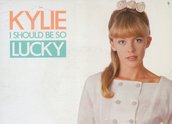 I Should Be So Lucky (1987)
Synopsis
I Should Be So Lucky was the second single from Kylie's debut album, Kylie (1988). Penned by English pop writing-producing phenomenon Mike Stock, Matt Aitken and Pete Waterman (also known as SAW), the song is a prime example of the late 1980s-early '90s dance-synth-pop genre with catchy vocals and guitar and keyboard instrumentation.
Curator's notes
A generation of little girls grew up heavily influenced by the innocent, cheeky style of Kylie Minogue. In 1986, at the age of 18, she became Australia's quintessential 'girl next door' (in the tradition of Olivia Newton-John) through her role as schoolgirl-turned-mechanic Charlene Mitchell on enduring soapy classic Neighbours (1985–current).
Kylie's first single in Australia, a cover of the Gerry Goffin and Carole King-penned The Loco-motion (1962), was released in 1987 as Locomotion and was number one for seven weeks. This version of Locomotion (1987) was not released in the UK (although it was later re-recorded for the Kylie album and released as a single). The song's runaway success in Australia, and the fact that Neighbours had become a daytime TV phenomenon in the UK, led to an opportunity for Kylie to work with prolific English producing-songwriting trio Stock, Aitken and Waterman.
Stock, Aitken and Waterman treated Kylie pretty dismissively at first. They didn't know who she was, let alone that she was soon to become the shining star in their 'Hit Factory' stable that at the time included the likes of Bananarama and Rick Astley. The story goes that Mike Stock and Pete Waterman wrote the song in 40 minutes via fax from what little they knew of Kylie – 19 years old, successful in her home country, pretty and with a nice voice. Stock's theory was that there must be something wrong with her – maybe she's unlucky in love?
Kylie recorded the vocals for I Should Be So Lucky in under an hour (impressive for a relative newcomer) at the Vineyard Studios in London. She was soon on a plane back to Australia, and her day job on Neighbours. The song turned out to be a huge commercial success, reaching number one in Australia, the UK, Finland, Germany, Hong Kong, Ireland, Israel, Japan and Switzerland and Top 5 in many other countries. After a conciliatory visit from Mike Stock, apologising for being so offhand with her, Kylie was soon back in the studio recording the rest of her self-titled debut album.
Since the release of Kylie in 1988, Minogue has recorded ten studio albums to date, and gone on to sell over 68 million records worldwide. Her acting career, however, has played second fiddle to her singing stardom; after leaving Neighbours in 1988, she sporadically appeared in both film and television in Australia and overseas, including The Delinquents (1989), Street Fighter (1994), Sample People and Cut (both 2000), Moulin Rouge! (2001), Kath and Kim (2002–07) and a Doctor Who Christmas special (2007).
Minogue is an excellent showbiz businesswoman, up there with the likes of Madonna and Oprah Winfrey when it comes to controlling her ever-changing image. Over the years, Kylie has matured in her style, adding a generous dash of sexy pop princess to the slightly daffy, wholesome persona she was famous for during this era. Kylie's gay fanbase has been key to her enduring success, with her role as a gay icon kicking in almost as soon as she became a recording artist.
The press have not always been kind to Kylie, coining the phrase the 'singing budgie' soon after I Should Be So Lucky became a hit. For a long time after parting ways with Stock, Aitken and Waterman in 1992, Kylie tried to shrug off her start at the Hit Factory. After gaining more artistic credibility from writing her own songs, and working with artists like Nick Cave, she decided to reclaim her past in the mid-to-late '90s and performed the lyrics to I Should Be So Lucky at a Poetry Jam at the Royal Albert Hall, saying it felt 'cathartic'.
Europe has become Minogue's adopted home, but she will always be an ambassador for Australia. She received an OBE and a French Ordre des Arts et des Lettres in 2008. Famous for her extravagant live shows, Kylie also notably performed at the closing ceremony of the Sydney Olympics in 2000, the Sydney Gay and Lesbian Mardi Gras in 1994 and 1998 and for United Nations peacekeeping forces in East Timor in 1999.
I Should Be So Lucky was released in Australia on 29 December 1987, and in the UK on 1 January 1988. The song topped the charts in nine countries including Australia – where it ranked number five on the year-end chart for 1988 – and the UK, where the song spent five weeks at number one and sold over 600,000 copies. Minogue became the first artist to hold simultaneous number ones in Australia and the UK. In the US, the song peaked at number 28 on the Billboard chart but went Top 10 on the Billboard Dance chart.