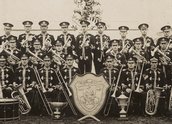 Honest Toil March (1924)
Synopsis
This is the earliest disc recording of an Australian brass band. It was made in 1924 by the prize-winning Newcastle Steelworks Band, who were drawn from the ranks of the BHP steelworks.
Curator's notes
This recording was made by the Newcastle Steelworks Band during their year-long visit to Great Britain in 1924. Altogether the band made the equivalent of 18 double-sided recordings for the Aeolian Company in London, of which 'Honest Toil March' is one example.
'Honest Toil March' was composed by William Rimmer (1826–1936), a prolific British composer of brass band music and a successful conductor of prominent British brass bands in the late 19th and early 20th centuries. Rimmer specialised in marches, composing many with patriotic or worthy titles such as 'Faithful and Free', 'The British Flag' and 'For Freedom and Honour'. The strong association of brass bands with industrial Britain is clearly referenced by the title of this work, 'Honest Toil'. 'Honest Toil' is considered one of his best marches, noted for its brilliant solo cornet part.
Brass bands played an important role in community life in the 19th and early 20th centuries. Every town of any importance had a brass band formed from local citizens that would provide music for ceremonial and community occasions. Brass band competitions were hotly contested at regional, national and international levels.
The Newcastle Steelworks Band was formed in April 1916 from the ranks of employees of BHP Steelworks in Newcastle, New South Wales. Under its third conductor, Albert Henry Baile, they became the first Australian band to participate in competitions in Great Britain. They scooped the prize pool, winning the British Empire and English championships and gaining third place in the world championship where, according to The Argus of 29 September 1924, they were 'the only bandsmen to take off their coats'. The band also performed for three months at the British Empire Exhibition in Wembley.
On their return home, the Mayor of Newcastle noted that when the Commonwealth Government presented a map of Australia to the organisers of the Wembley Exhibition, it forgot to put Newcastle on its map. 'Now', he declared, 'the Steelworks Band has done it for them'.
Bandmaster Albert Henry Baile became involved in the band movement in Perth after migrating to Australia from England as a child. He won several state championships as bandmaster of the Perth City Band, and was recruited to lead the Newcastle Steelworks Band in 1920. He went on to lead the Australian Commonwealth Band through several world tours.