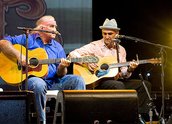 From Little Things Big Things Grow (1993)
Synopsis
'From Little Things Big Things Grow', written by Kev Carmody and Paul Kelly in the late eighties, pays tribute to Vincent Lingiari and the Gurindji Strike in 1966. The 'little' thing refers to Lingiari leading the Wave Hill Station walk-off demanding Lord Vestey return land to the Gurindji people. Eight years later Whitlam symbolically handed land back to the Indigenous people – a big step toward land rights and equality.
Curator's notes
This version was only meant as a demo for a documentary about Kev Carmody called Blood Brothers – From Little Things Big Things Grow (1993) but with its minimal production values and strong message, it has endured as a moving and classic version.
Paul Kelly and Kev Carmody wrote most of 'From Little Things Big Things Grow' in a few hours sitting around a campfire, under the stars, in the late 1980s. Their inspiration came from Vincent Lingiari who, in 1966, led the Wave Hill walk-off to an important sacred site nearby called Daguragu, at Wattie Creek. The strike lasted eight years and was the catalyst for the Aboriginal land rights movement.
Kelly reworked a few lines from a Bruce Springsteen song and drew influence from American protest songs by Woody Guthrie and Bob Dylan (Paul Kelly writes about the origins of the song in Creator's comments). What emerged was a simple and catchy tune with lyrics that tell the story of the successful Gurindji Wave Hill Station strike and convey the theme of justice for all and the idea that from small beginnings great things can be achieved (clip one).
As Australia celebrated 200 years of white settlement in 1988, there were also demonstrations against the injustices white settlement had brought upon the Indigenous population. The time seemed right for a protest song.
Kelly released the song on the 1991 album 'Comedy', with his band the Messengers. Carmody recorded a version with Kelly on his 1993 album 'Bloodlines'. It was also released as a CD single by Carmody and Kelly in 1993 but it failed to chart.
It wasn't until early 2008, when a cover version by the Herd as the GetUp Mob, part of the GetUp! advocacy group, got the song into the top five on the ARIA charts.
This version was triggered by Prime Minister Kevin Rudd's 'Sorry' speech in February 2008 (see First Australians – Episode 5, Unhealthy Government Experiment, clip three), with new lyrics about saying sorry means giving respect, which is the essence of the song and what Vincent Lingiari demanded from Lord Vestey in 1966. The remix also takes samples from Prime Minister Paul Keating's Redfern speech in 1992, where he says if we can imagine the injustice (done to the Indigenous peoples), we can also imagine justice (see Keating Speech: The Redfern Address).
Carmody and Kelly appear on this version as do other popular Australian musicians, such as Dan Sultan and Missy Higgins. The video also features well-known Indigenous sporting and cultural identities, all of which help bring home the poignant and relevant message in Carmody and Kelly's song to a wider national audience more willing to listen.