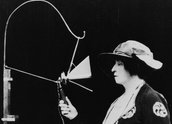 Chant Vénitien (1904)
Synopsis
Dame Nellie Melba's recording of 'Chant Vénitien' was among her first commercial recording sessions. Her performance, for the Gramophone Company in London on 20 October 1904, is accompanied by the composer of the song, Herman Bemberg.
Curator's notes
These first recordings were made at Melba's house in Great Cumberland Place, London, rather than the Gramophone Company's usual recording studio. 'Chant Vénitien' was recorded during one of probably four sessions completed during breaks in a provincial tour.
Melba's recording career probably began some years earlier, when she was performing in New York in the mid-1890s and already an established star. It is likely that she made a number of cylinder recordings, but she did not approve of the sound reproduction and none of these earliest recordings have survived. It wasn't until 1904 that her interest turned to recording again, by which time flat disc records offered a higher quality of sound than wax cylinders.
Dame Nellie Melba was born Helen Mitchell in Richmond, an inner suburb of Melbourne in 1861. She was married for a short time to Charles Armstrong, giving birth to their son, George, in 1883 in Queensland, but she decided that she wanted to be an opera singer. She returned to Melbourne in early 1884 and gave her debut concert in May that year.
In 1886, she travelled with her father to England to make a name for herself in Europe. Her Paris teacher Mathilde Marchesi encouraged her to change her name and she chose Melba as a tribute to her home town. Her European debut was in Brussels in 1887, and by 1889 she had returned to London to sing at Covent Garden, the beginning of major worldwide success. She was appointed Dame Commander of the British Empire in 1918.