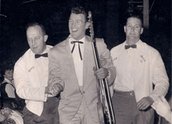 Bye Bye Baby (1959)
Synopsis
A jaunty two-and-a-half minute pop song performed by Col Joye, Australia's first home-grown rock'n'roll star, and the Joy Boys, with backing vocals from the Sapphires. This catchy pop tune of the late '50s reached number one on the Sydney charts and number three nationally.
Curator's notes
The release of the Bill Haley and the Comets film Rock Around The Clock in 1956 changed popular music forever. A generation of young Australians were entranced by the music, and bands were formed all over the country, mostly playing for dances in local halls.
Colin Jacobsen formed a band with two of his brothers. Within a year they had become Col Joye and the Joy Boys and were working several nights a week. They were the second Australian rock'n'roll act signed by the newly established Festival Records (after Johnny O'Keefe, see She's My Baby, 1959).
Their first release was an EP in mid-1958 called 'Joy Ride'. A year later they recorded 'Bye Bye Baby' at the Festival Records studio in Pyrmont, New South Wales, using a toilet as an echo chamber to add reverb to the sound. It entered the Sydney charts in May 1959 and stayed at number one for four weeks. This song was followed in the next few months by more hits, three of which reached the top position on the charts. Those hits were 'Oh Yeah Uh Huh', '(Rockin', Rollin') Clementine' and 'Yes Sir, That's My Baby'.
For the next few years Col Joye was one of the major stars of the Australian music scene, recording not only with the Joy Boys but several other groups and soloists, with regularly charting records until the middle of the 1960s. While his main rival, Johnny O'Keefe, cultivated a 'Wild One' image, Joye was much more an acceptable, clean-cut Aussie boy.
When Channel Nine started Bandstand (1958–72) in late 1958, Joye became a regular performer and stayed with the program for many years. Bandstand legitimised the popular music of the time, making it acceptable to a family audience, and Col Joye was an integral part of smoothing the rough edges off early rock'n'roll.