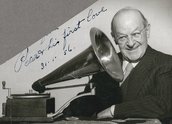 Along the Road to Gundagai (1931)
Synopsis
This 1931 recording of composer Jack O'Hagan's 'Along the Road to Gundagai' is performed by Peter Dawson, the most popular Australian singer of the day.
Curator's notes
'Along the Road to Gundagai' was written by Jack O'Hagan in 1921 and recorded by Peter Dawson in 1931. O'Hagan was a major Australian songwriter between the First and Second World Wars and this recording of his most famous song remains instantly recognisable.
Known as much for performing opera, Adelaide-born Peter Lawson released a number of popular songs in the 1920s and '30s with great commercial success. 'Along the Road to Gundagai' reportedly sold 50,000 copies of the 78 rpm shellac discs in just three months.
The song went on to be a favourite with soldiers in the Second World War. Gundagai, a small town in New South Wales, was also in the title of two other of O'Hagan's songs, 'Where the Dog Sits on the Tuckerbox (Five Miles from Gundagai)' and 'When a Boy from Alabama Meets a Girl from Gundagai', which was released in 1942 when American troops were in Australia during the Second World War: with such good timing, it was a hit.
Strangely, O'Hagan had decided early in his career that Australians weren't very interested in songs about Australia, so he wrote a song called 'Down Carolina Way'. On showing it to an entrepreneur he was rebuked and told to write a song about Australia. He reportedly wrote 'Along the Road to Gundagai' in response.
Many of O'Hagan's subsequent songs were Australian in content, including 'Our Don Bradman', and 'Things is Crook, in Tallarook'. 'Along the Road to Gundagai' was used as the as the theme song for the Dad and Dave radio show in the 1930s and '40s and has also been recorded by the likes of Slim Dusty and Barry Humphries.
O'Hagan was awarded an OBE in 1973 and died in 1988, aged 88. 'Along the Road to Gundagai' remains one of the great Australian folk songs and Peter Dawson's recording of it one of the best-known versions.