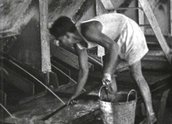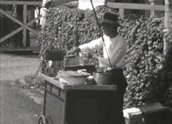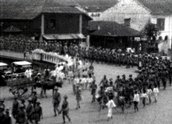 White, AR: Tin Mining in Malaya (c.1930)
Synopsis
This silent home movie footage, filmed by Arthur Reginald White in 1930s British Malaya, includes scenes of a tin mining plant; the open markets and streets of Kuala Lumpur; the Malayan Volunteer Corps in training and on parade; and examples of colonial and local architecture.
Curator's notes
Major Arthur Reginald White filmed this amateur footage while working as a Surveyor General for the British Government in British Malaya, where he lived during the years between the First and Second World Wars. Australians have engaged with the Asia-Pacific region through travel and enterprise for many decades, but moving image records from the first half of the 20th century are not common. Home movies capture personal perspectives on everyday life, often in an unplanned way (see White's observations of hawkers in clip two).
Most of the film focuses on the activities of Malay Chinese members of the Straits Settlement Volunteer Force stationed in Malacca (see clip three). This is not surprising given White's involvement in the armed forces. During the First World War, he received a Military Cross for valour. In the Second World War, he would be stationed in Ceylon (now Sri Lanka).
Major White's home movies were acquired through the National Film and Sound Archive's Last Film Search initiative. In its attempts to recover valuable nitrate film before it disintegrated, the NFSA also acquired a number of diacetate films such as this 16mm home movie.