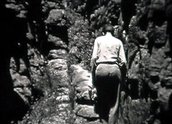 Western Wonderland (1954)
Synopsis
This black-and-white 9.5mm amateur travelogue filmed by Frank Straford records his trip with friends to the Grampians National Park in western Victoria in 1954.
Curator's notes
Credited as an 'SBF Highway Ramble', this film is one of a few leisurely travelogues created by Frank Straford for SBF (Straford Brothers Films). Earlier in 1954, Frank and his brother John made Roamin' Holiday (1954) about their holiday in north-eastern Victoria. Western Wonderland is made in a similar style and serves as both a record of the experience and a reflection on each location visited. The voice-over and music were added by Frank Straford in 2003 to the 1954 footage. Having voiced the narration so long after the original trip, it contains shades of poetic nostalgia.
The film was shot with the Strafords' motorised Pathé 9.5mm camera, utilising a narrow gauge film format popular in the 1920s and developed by French Pathé. The brothers acquired their taste for filmmaking from their father Vivien, who bought his own hand-cranked 9.5mm Baby Pathé camera in the late 1920s (see The SBF Story, 2007, and Vivien Straford 1927–1937).
This film was screened at ACMI in Melbourne as part of the 2005 Memory Grid installation.