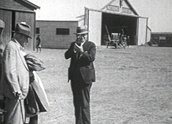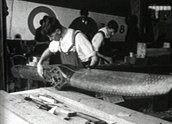 These American Tourists Leave Melbourne After Breakfast (c.1926)
Synopsis
This silent home movie footage captures a group of American tourists leaving the Federal Hotel in Melbourne with thier luggage, part of their flight in a DH 50A biplane and scenes of what is probably the Qantas workshop at Longreach, Queensland.
Curator's notes
The title of this home movie, which identifies the group of tourists as Americans, comes from the title card at the beginning of the film. There are no other clues to indicate the provenance of the material or who these tourists are, although their activities (taking an air flight) and their choice of accommodation indicate they are wealthy. Aviation was still in its infancy at the time this home movie was filmed and flights such as this would have been expensive for paying passengers.
The footage consists mostly of aerial shots taken during the flight that survey suburban areas around Melbourne. The use of dissolves throughout this footage indicates the home moviemaker's intention to convey the passing of time and moves the action forward. The 25 minutes of footage unfold in chronological sequence in four sections: their departure from the hotel and trip to the airfield, the flight itself, the stopovers for tea and at the workshop, and their arrival back at the airfield.