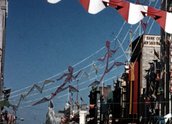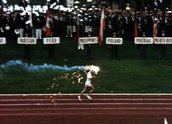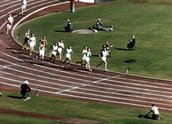 Syme, Ken: Melbourne Olympic Games (1956)
Synopsis
The 1956 Olympic Games, held in Melbourne, was a high profile event for the city. Like many ordinary Australians at the time, Ken Syme took home movie footage of the event. His silent, colour footage captures the street celebrations and decorations, part of the opening ceremony, and the arrival of the Duke of Edinburgh to an event.
Curator's notes
This silent, colour home movie, shot by Ken Syme, provides a snapshot of both the 1956 Olympic Games, and the city that hosted it. The footage, which runs for over 25 minutes, takes in events at a range of venues around Melbourne, including the Melbourne Cricket Ground and Albert Park Lake.
Like many members of the public, Ken Syme deposited this home movie footage with the National Film and Sound Archive where it is held in the National Collection. Together with hundreds of other private moving image records of public events donated by the general public, this footage adds to the collective visual memory of an important event in Australian cultural and sporting life.