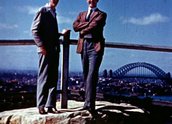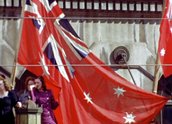 Sydney Harbour and Anzac Day (c.1946)
Synopsis
This home movie features panoramic colour views of Sydney Harbour and the Anzac Day parade in Sydney, 1946.
Curator's notes
This home movie captures not only family moments but also Anzac Day, a national event with a sometimes observational but always personal perspective, using a hand-held camera.
Produced in the 1940s, this film has deteriorated over time. The clips are grainy, with scratches. The film has also shrunk 1.5 percent and suffered perforation damage. The National Film and Sound Archive have carried out projection repair as well as telecine, transferring it to video formats.
The creator of this home movie is unknown. It was deposited with the National Film and Sound Archive by a filmmaker who built a private collection of film and recorded sound material.