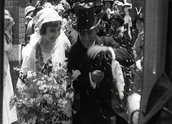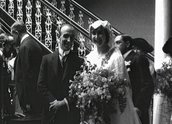 Society Wedding (c.1914)
Synopsis
This silent amateur 35mm footage of a society wedding from approximately 1914 shows the arrival at the church of the wedding party, including the bride, then shows the married couple leaving after the ceremony. It also features the wedding reception where the wedding party pose for formal photographs.
Curator's notes
This four-and-a-half minutes of silent footage, beautifully framed and shot on 35mm nitrate film, is a rare example of amateur or home movie footage from the 1910s. Prior to the invention of 16mm film in 1923, amateur and home movie making was an expensive hobby and therefore confined to a small sector of Australian society. Surviving footage from home movies filmed on 35mm nitrate film at this time is rarer still, and only a handful of examples are held in the National Film and Sound Archive (see Higgins, Bryce: Family and Holiday Scenes: 1909-1924: Home Movies, c1909).
This short but vivid fragment provides a glimpse into a society wedding in what is probably an eastern suburb of Sydney. Unfortunately the people in the film remain unidentified leaving us to wonder who they were and what their lives were like. It was carefully filmed in a series of shots, each deliberately framed. The shot from inside the bridal car (see clip one) of the couple walking out of the church was clearly planned to be edited with the next shot – a reverse from outside of the car looking in at the bride. Home movies are generally considered actuality footage, but these two shots show that, even by the 1910s, amateur film recordings displayed sufficient understanding of editing and framing to construct a narrative of everyday experience.
This home movie was filmed at a rate of 18 frames per second. When transferred to a video format that plays at 25 frames per second, the images appear in fast motion. This is the case with a lot of silent film as frame rates changed over the years before becoming standardised at 25 frames per second (video) or 24 frames per second (film).