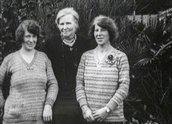 Snapshots around 'Madras' (c.1926)
Synopsis
This silent home movie footage filmed by Gordon Gidney captures family members in their back garden at their home 'Madras' in the Melbourne suburb of Mount Eliza. They are filmed waving, smiling and talking to the camera in a series of moving portraits.
Curator's notes
These 'moving portraits' are a good example of how, in the early days of moving images, people would often pose for the camera as if they were posing for a still photograph. In this home movie, the family sit or stand in a medium close-up and look directly into the camera. In parts of this footage, the response from some of the subjects clearly indicates that they are being prompted by off-screen instructions or suggestions by Gidney.
According to his grandson, Gidney wanted to be a professional photographer but remained an amateur for most of his life, although he did work on a few professional productions. Thanks to a large family inheritance, Gidney was able to pursue his hobby by travelling the world, making travelogues and experimenting with his camera. During the Second World War, he filmed the Battle of Britain.