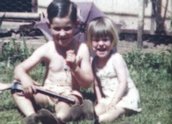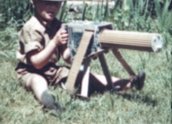 Roberts, John: Children playing war games in a suburban backyard (c.1941)
Synopsis
In a suburban backyard in Adelaide, two siblings play war games with toy guns and pose for the camera. This silent, colour, home movie footage was filmed by John Roberts in 1941.
Curator's notes
John Roberts filmed various scenes in and around his home city of Adelaide from 1939 to 1941, including Anzac Day and war bonds marches. This footage was shot in 1941 and his children Kay and Barry are seen in these clips.
Private moving image footage comes to the National Film and Sound Archive in a number of ways. In this case, the home movies taken by John Roberts were donated to the Archive by his daughter.