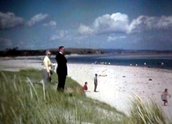 Roamin' Holiday (1954)
Synopsis
This amateur travelogue made by John and Frank Straford records their trip to north-east Victoria. Places visited include Marysville, Stephenson Falls, Cumberland Falls, Tallangatta, Hume Weir and Bethanga. It includes both black-and-white and colour footage.
Curator's notes
Credited as 'an SBF highway ramble', this travelogue features a relaxed voice-over by Frank Straford and a pleasant classical soundtrack. The scenic pans evocatively capture the landscape, and steady travelling shots filmed from inside a car give the film a sense of movement and adventure. Western Wonderland (1954), made in the same year, documented a trip the brothers made with their friends to the Grampians region in western Victoria.
Melburnians John and Frank Straford were enthusiastic amateur filmmakers who created short animations, science-fiction dramas, travelogues and comedies under the name of SBF (Straford Brothers Films). While they were most active during the 1950s and 1960s (in the fiction format especially), they continue to make documentaries and travelogues, their most recent being a four-part history of SBF and the Straford family's filmmaking (see The SBF Story, 2007).
This film screened at ACMI in Melbourne as part of the 2005 Memory Grid installation.