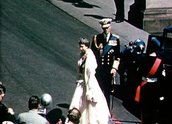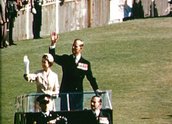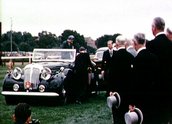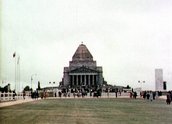 Menzies RG: Our Royal Visitors (1954)
Synopsis
This home movie, filmed by the Australian Prime Minister, Sir Robert Menzies, records the official visit by Queen Elizabeth II and her husband, Prince Philip, the Duke of Edinburgh to Melbourne in 1954. It shows the Queen and Prince Philip landing by plane at Essendon, their arrival at the Victorian Parliament, the ex-servicemen rally at the Melbourne Cricket Ground, the royal couple enjoying the Flemington horse races, the dedication of the Shrine Forecourt, a Government Garden party and the huge crowds that welcomed them with great excitement.
Curator's notes
This home movie captures the royal visit and the pomp, ceremony and excitement that surrounded it.
The Royal Visit of 1954 began on 3 February and included a national tour of Australia which was organised by Sir Robert Menzies, the Labor premiers and lord mayors. The youthful nation promoted itself to the youthful Queen, she herself representative of the future. The Queen and Duke visited school children, the Great Barrier Reef, the Three Sisters at Katoomba, the Flying Doctor Service base at Alice Springs, regional centres and sporting events.
The Australian Government presented Australia to the royal couple as a youthful and dynamic country with abundant resources. They visited the steel foundry in Newcastle and the open cast brown coal mine in Yallourn. However, this home movie focuses on the official events centred in Melbourne.
Sir Robert Menzies recorded the royal visit on 16mm colour film. He edited the footage and added a close-up of the Royal Standard flag in between each segment, separating each event.