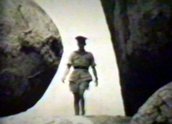 Norforce Army Days at Hayes Creek, NT and Wyndham (1943)
Synopsis
This historical footage filmed by John Mack around 1943 captures Australian defence force personnel travelling on the old Ghan railway from South Australia to the Northern Territory. Mack also films some of the Australian landscape including the Devils Marbles and the near-deserted town of Wyndham in Western Australia shortly after being bombed by Japanese forces.
It also includes footage of Quorn, Edwards Creek, Oodnadatta, Parachilna, Irrapatanna, Mataranka, Katherine and the Adelaide River.
Curator's notes
John Mack is a South Australian photographer and cinematographer. As a young man he worked in a photographic firm in Adelaide and began working with moving images soon after that. Mack became involved in the amateur cinema movement in South Australia during the 1930s and 1950s. During the Second World War he was a staff sergeant and was posted to the Northern Territory where he was involved with the Australian Army Education Service. It was during this time that he filmed this footage.
Mack filmed with a Bell and Howell double 8 mm camera for which he made his own double 8 mm film from found 16 mm stock. Mack used an old sewing machine in Darwin to punch the extra set of sprocket holes needed to convert 16 mm into double 8 mm film (16 mm film has half as many perforations as double 8 mm) for his camera. This illustrates Mack's ingenuity and resourcefulness at a time when it was difficult to get hold of film stock because of the war.