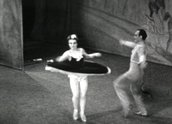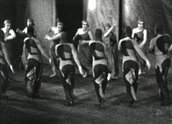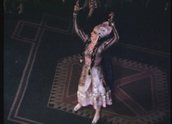 Monte Carlo Russian Ballet. Original Ballet Russe (c.1936)
Synopsis
This footage, filmed by Ewan Murray-Will, shows staged sequences of the Ballets Russes' repertoire on their tours to Australia. It includes excerpts from the ballets Le Beau Danube, Le Carnaval, Les Presage, Petrouchka and Thamar.
Curator's notes
This film forms part of the Chesterman Collection, a series of 25 cans of 16 mm film taken by dermatologist and amateur filmmaker Ewan Murray-Will. The collection is held at the National Film and Sound Archive.
Le Beau Danube was only performed on the first Ballets Russes tour in 1936–37 so this footage was probably filmed during this time.
Ewan Murray-Wills created a valuable moving image record of excerpts from the Ballets Russes repertoire during their three tours to Australia between 1936 and 1940. Staged performances, as seen here, were often filmed from the wings or from an elevated position close to the stage. The sequences curated here are in black and white, but there is also colour footage of the ballet Thamar, along with some informal scenes of three dancers on a beach.
Along with these informal scenes of individual dancers, Murray-Will's amateur footage complements the comprehensive photographic series taken by Max Dupain during the Ballets Russes tours. Photographs from Dupain's Ballets Russes series, along with a handful of photographs taken by Murray-Will, can be viewed online at Picture Australia which has photographs from Australia's major historical picture collections.